Iao Parkside Condo in Wailuku Is Today's condo of the Day .

Looking to Buy Or Sell in Maui?
I want to be your agent.
Call me

.
Howard Dinits R(B)
Dinits Realty
808-874-0600
Want to receive email alerts with listings of condos or homes for sale?
Sign up today at https://idx.easymauirealestate.com/idx/search/emailupdatesignup
Please check out the Condo of the Day Iao Parkside 
(for sale Maui iao parkside, iao parkside for sale, iao parkside condo condo for sale, vacation rentals NOT OK, pets ok)
Iao Parkside – Wailuku
Iao Parkside Condos For Sale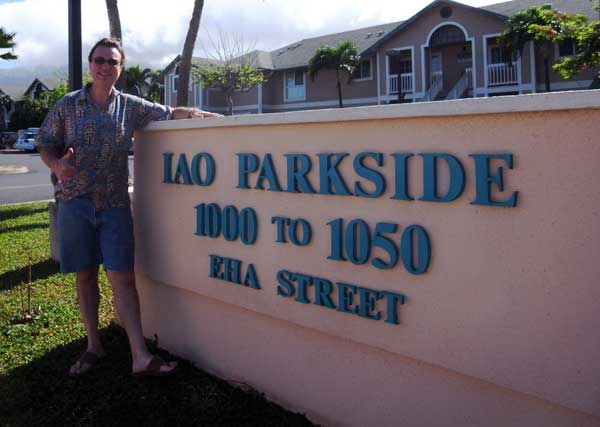 Iao Parkside is a popular and affordable condominium complex in Wailuku on Maui. Units here make great starter homes or investment properties.  There are 47 two story buildings located on this 9.10 acre property. This property was built in stages with completion dates of 1993, 1994, 1997 and 2002 There are fifity-six one bedroom, one bath units with interiors that range from 519 to 543 square feet. There are eighty-four two bedroom one and a half bath apartments that range from 617- to 657 square feet. There are seventy-four two bedroom, two bath condos with 721 to 764 square feet interiors. There are one hundred and fifty-four homes with two bedroom and two bath and 795 to 830m square feet interiors.  The most desirable are the three bedroom two bath properties with interiors that range from 917 to 960 square feet. Iao Parkside is just under 100 feet  above sea level and receives 20-30″of rainfall in an average year. There is a Monthly Maintenance fee that covers upkeep of common areas, garbage, sewer, water, and landscaping. Residents pay for electricity and cable. Unit comes with assigned parking (usually one or two depending on the size of the unit). Great low rise complex located at the base of the majestic West Maui Mountains with homes with possible views including Haleakala, Iao Valley,  Iao Stream, garden views or the rare ocean view. Covered lanai provides additional living space to relax, as do ground floor units that have fenced yards. This a great place to live or invest in a desirable long term rental.  Iao Parkside is centrally located near shopping, schools, bus lines, medical facilities, and the Maui Arts and Cultural Center. Iao Parkside is pet-friendly and located adjacent Papohaku Park and the Wailuku Community Center.
Get your Iao Parkside Condo Guide here and Call Dinits Realty for help 808-874-0600
Want to see what is for Sale at Iao Parkside?
 Click Here to see Iao Parkside Condos For Sale.
Read Rajan K.'s review of Howard Dinits – Dinits Realty on Yelp
Read Patrick S.'s review of Howard Dinits – Dinits Realty on Yelp
Read Bill M.'s review of Howard Dinits – Dinits Realty on Yelp
Read Amanda V.'s review of Howard Dinits – Dinits Realty on Yelp
Read Diane T.'s review of Howard Dinits – Dinits Realty on Yelp
Read Elizabeth V.'s review of Howard Dinits – Dinits Realty on Yelp
Read Clayton W.'s review of Howard Dinits – Dinits Realty on Yelp
Read Chris M.'s review of Howard Dinits – Dinits Realty on Yelp
Want to receive email alerts with listings of condos or homes for sale?
Sign up today
at https://idx.easymauirealestate.com/idx/search/emailupdatesignup
Subscribe to your Maui Daily News at
http://mauilifestylenews.com/
You can now Search
Maui Real Estate For Sale by Price
Please try the 1 click search